General Fitness Information


With all the fitness information available and all the money spent on diet and exercise equipment, gadgets, dvd's and whatever, you would think that we would be a society of super athletes! So why are the majority of us still overweight and out of shape?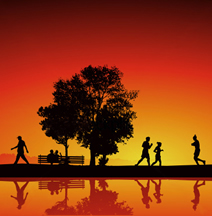 The answer is not an entirely easy one. For one person it may be the busy schedule preventing regular exercise. For another it may be a career that requires eating fast food on a regular basis.
Still another person may have plenty of time but no real understanding of the importance of being physically fit or sadly, the consequences of the alternative.
Regardless of the reasons and um…excuses people may have, we as a whole need to do a better job of taking care of ourselves and setting a good example for our children in order to lower our health care costs and just lead happier and healthier lives. Check this out if you need more reasons to exercise.
We believe that by providing this information, we can help change attitudes and rectify some of the incorrect myths and misinformation that can be spread by even the most well-intentioned.
This section of the website contains articles designed to educate on various aspects of fitness that don't really fit within the other sections. Please feel free to browse the articles on the left for those that are relevant to your situation or that you may find interesting.
May we all learn from modern science and take this fitness information to heart and apply it in our everyday lives. Here's to your good physical health!
Back to top of General Fitness Information